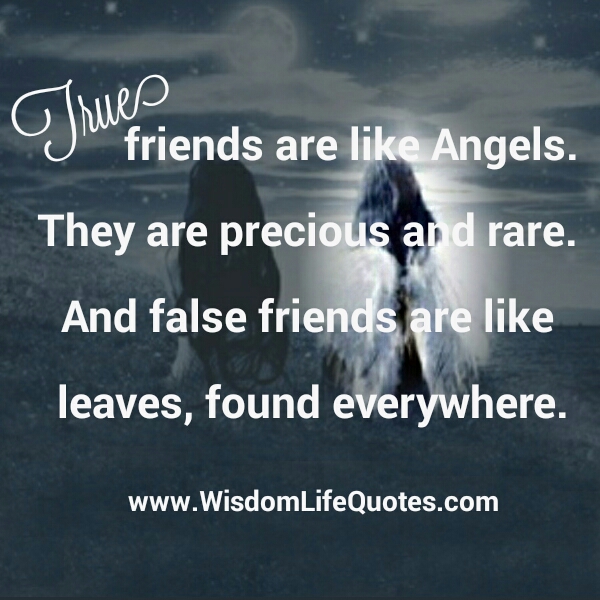 Real friends can be counted on one hand, the others are just passing acquaintances.
Friends who are full of devotion when we need nothing remind me of pine trees which offer us shade in winter. Such is the definition of a true friend in direct contrast to fickle, fair-weather friends who change seasonally and are as common as scattered leaves on the ground, drifting aimlessly in no particular pattern or direction with no deeper sense of permanency but always being swayed by selfish motivations. ~ Margaret Young 
Often who we consider friends are those who are around all the time. True friends may only be around when a great need or void needs to be filled and then they vanish until, somehow they appear at just the right, best, needful time.
When it comes to true friends quality is better than quantity. Real true friends are rare. They are the ones we can trust, the ones we enjoy being with and/or talking to, love us unconditionally, are honest with us and bring out the best in us. In time we know who they are and who they are not. An acquaintance is a totally different kind of relationship. ~ Victoria Mack 
Friends are friends; everyone is an angel in their own respective way. We give few of them the right to be near to us, be everything for us but with other we maintain distance. The life is always about connecting our souls and when our wavelength matches with someone we hold them near us. It's not other didn't deserved it. It's we who decided to hold something which we felt deserved us. Everyone of us have an angel within us which deserves true recognition in true Form.~ Yasin Verasia 
I have more true friends than I can count. It's just that the false ones make such a lasting impression. ~ Alice Normand 
Got Something to Say! Comment below :-
comments