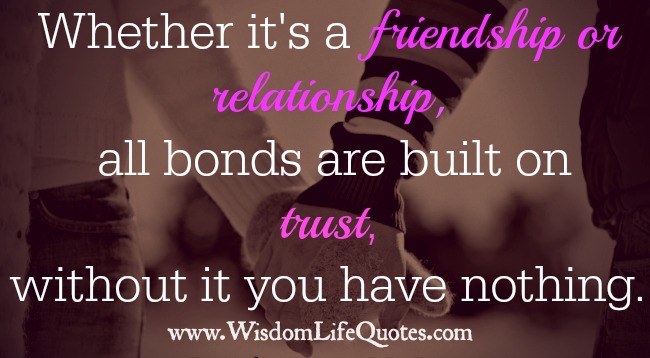 Without trust you have nothing. It's not even worth fighting for when the lies just keep on coming.
Without trust is a waste of time and effort to hold on to any kind of relationship.
Love, Trust and Respect are all vital Elements of a good and healthy Friendship or Relationship.
Trust is a big part also faith, love, honesty, sharing, caring and praying about the other a lot of people think they can go into that with a self-serving attitude and not thinking about the other person that is a very big part of a relationship whether it be marriage dating or a frendship all those components are very well needed, without it you have nothing. ~ Mary Williams 
Communication, Honesty, trust, respect, faith, love and the list goes on needed to cement a friendship or relationship. Two-way communication is essential in starting a friendship or relationship. Gaps in friendships or relationships, others will try and fill, but true love waits. ~ Myrna Johnson
Don't forget you also must have understanding too, if you don't have understanding you have no firm foundation. ~ Bob Hesselholt 
Got Something to Say! Comment below :-
comments