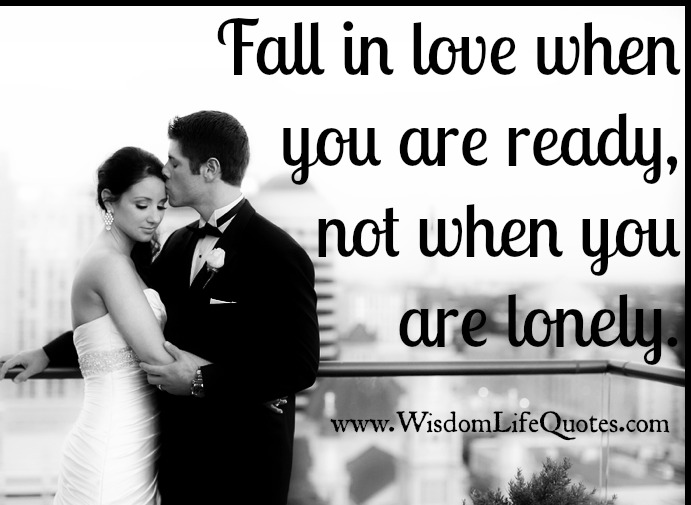 Stop looking! Love will find you.
You will choose the wrong person, when you are not ready. 
Love yourself and you will never be lonely, then give love to others.
When love happens, it happens. We need to be cautious not to lead the other on when we are not ready to commit. ~ Sophia Tan 
It is like standing in front of the refrigerator looking for something to eat. Am I hungry or am I just bored or lonely? We all have to experience real self love before we know we are ready to love another person. ~ Bonnie Wienke 
Lonely leaves you vulnerable to unhealthy and distressful wrong relationships. To feel with the heart and soul is the only way to go and not lustful reaction to a body or physical comfort but a real basis of what a person is that attracts the heart and is purely sincere in all other actions. ~ Carra McClain 
It's a needing love not a giving love. It isn't whole it's wanting. Love works because you give it away and then you get it back. If you love when you're lonely you're loving for yourself and not others which isn't giving which prevents it ever being whole. ~ Brendon Condon 
In the darkness of your lonely hours, when the world's asleep, you will find the inner strength to reconnect and find that certain someone who will look beyond the pain you bare, beyond your hopelessness and find the love deep in your heart, and love you forever more. ~ James Fazio 
It's all about loving yourself and living happily and healthfully, and love will find you. There is someone out there for everyone, it's just a matter of finding that special someone at the right time in your life.
If you wait around until you're ready to love or if you wait around for perfect people to love, you'll be waiting a very long time. If you are talking about only romantic relationships, as in looking for a spouse, then love has to wait and grow and mature for awhile, but love is always a choice we make and the more we choose to love, the more love grows in our heart for others. God is the source of love and He has an unlimited resource waiting for you to tap into with a fresh supply of mercy every morning. ~ Debbie Stauffer
Got Something to Say! Comment below :-
comments