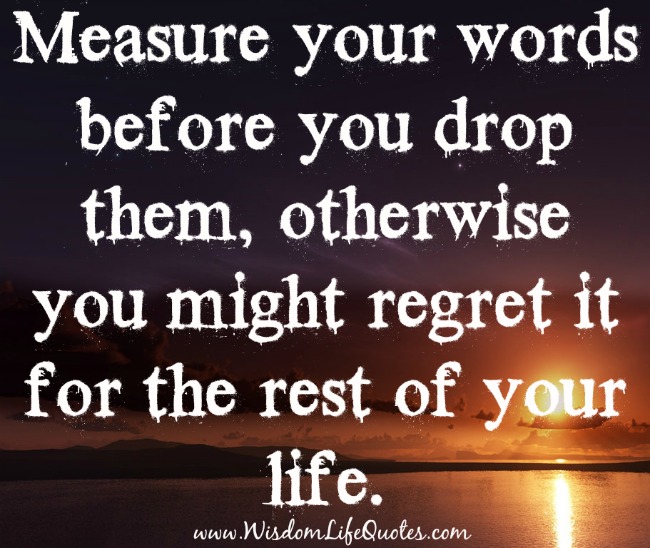 Keep your word stay calm when you feel angry. Words can kill and destroy. 
Words and thoughts have power. If you fill your mind with words of kindness, you become kind. If you fill your mind with thoughts of courage, you become courageous. So, be mindful of your words. ~ Deni Dandelion
Make sure your words are sweet, as you may have to eat them.
Words can hurt & words can heal. Words can help & words can mess up your life. Say your words with love always. ~ Anita Smith 
It's like firing a bullet from the gun. Once you pull the trigger you can't bring it back. Things are better left unsaid. ~ Ed Mansell 
Our words just like our thoughts have power. We must be aware and take responsibility for all we say and think. 
They're thoughts, then they become words, so watch your thoughts too.
If you don't have something good to say, it's better to keep quiet.
The point is I learned never to speak when I'm angry. Just walk away! Try it next time and if you are raging with anger and pain, get a pen and paper and pen down your thoughts. Learn to keep a diary. ~ Madruga Yanet 
I will always watch my words and think before I speak, especially when I am mad. ~ Ana Luisa
Got Something to Say! Comment below :-
comments