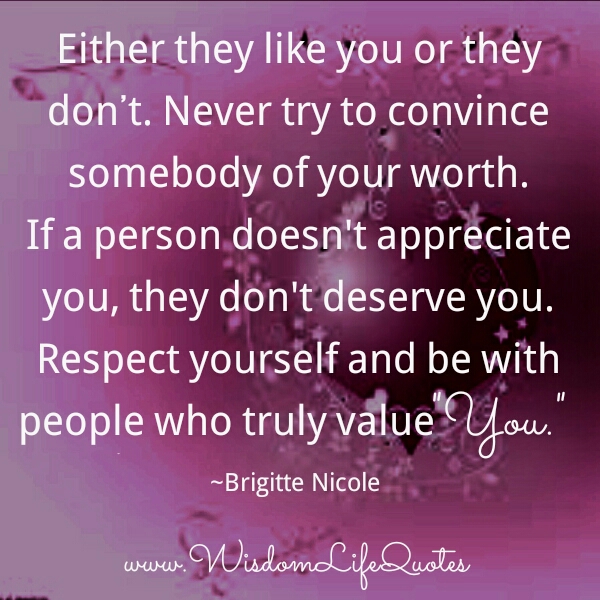 Don't ever forget your own self respect.
Life is just to short to have to keep proving ones self to others.
Whether someone likes you or not is really none of your business, only you have to like you. Worry about the if all the time and you miss out on life itself.
Not everyone will fit with everyone. Personalities and lifestyles do clash. Be you, those who like you will like you, just the way you are. ~ Karyn Rose 
To love and to respect yourself and your own needs, is one of the most important lessons to learn for finding satisfaction and happiness in life. ~ Enca Martinez 
Don't go begging for love, it is the worst type of indigence a person can have.
No matter how good a person you are there's always someone out there who think their self worth is better than yours. We all are God's children. When it comes right down to it when someone doesn't like you, it's because they are jealous & have issues. ~ Linda James 
If you must hanker after other people's approval instead of God's, it means your self-esteem is at an all-time low. Those who appreciate you will only see the best in you, never the worst. They may be very few and far between, but those are the ones you need in your life. ~ Daniel Ayodele 
Got Something to Say! Comment below :-
comments